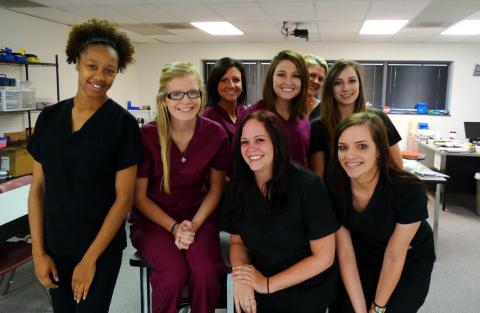 A Typical Day: 
The dental assistant begins each day arriving at work to stock and prepare everything for the day. Dental assistants must make sure that each room is prepped, and that charts, X-rays, and necessary procedural materials, such as bonding agents, are ready.
Once the patients arrives, approximately 20 things have to be done to prepare them for their procedure starting with:
Bringing the patient to the room
Seating the patient
Putting on the bib
These are steps that have to be repeated for every patient throughout the day, and sometimes there are multiple patients being seen simultaneously in different rooms. Once the room is prepared, it is the duty of the Dental Assistant to inform the Dentist that the patient is ready. The assistant then helps the dentist through each step of the procedure by:
Holding the patient's tongue and cheeks back while the dentist works
Rinsing the patient's mouth and suctioning out extra saliva
Providing the dentist with materials as needed
Recording notes on the patient's chart
Cleaning the room for the next patient
Dental Assistants have also been know to help the front desk staff by calling patients to confirm appointments and sending out those colorful reminder cards you get in the mail every 6 months.
The dentist's office promises no dull days and is a career rewarded by beautiful smiles that you make happen every day!
Interested in the Midwest Institute Dental Assisting Program? Classes are forming now!