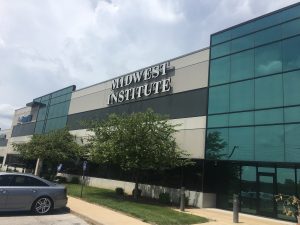 Midwest Institute in St. Louis houses career training programs in two locations: our North Campus in Earth City and our South Campus in Fenton.
Midwest Institute's accredited programs offer prospective students a wide array of skills training, hands-on learning, and test preparation in order to successfully graduate and find a job in your new industry. Take advantage of the education, exciting challenges, and new opportunities for personal growth and financial stability that a career in one of these most in-demand industries will offer you.
Driving Directions to Our South Campus – Fenton
From Highway 270 and I-44
Merge onto I-44 West/US-50 W
Take the Soccer Park Rd/N Highway Dr exit. Exit 275.
Keep right to take the Soccer Park Rd ramp
Turn slight right onto Soccer Park Rd
Drive a short distance on Soccer Park Rd. The road will make a 90 degree turn to the right around our building. Take the right into the parking lot just before going under the overpass.
From Highway 141 and I-44
Take I-44 East/US-50 E
Take EXIT 274A Bowles Exit (or EXIT 274b toward Mraz Ln.) Both of these will direct you onto S. Highway Drive
Merge onto S. Highway Drive. Stay here for 1-2 miles.
Turn left onto Rudder Rd
Turn left onto Yarnell Rd. Drive under I-44/US-50
School is on the left (if you reach 1st St, you've gone about .3 mi too far)
SOUTH CAMPUS
2 Soccer Park Rd.
Fenton, MO 63026
Thank you for your interest. For more information, please fill in the simple form below. We receive your messages both via email and to our phones and will respond as soon as we can.
Back to Top