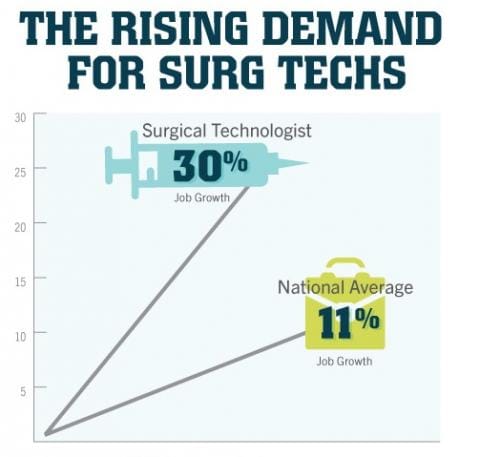 4 Reasons You Should Become a Surgical Technologist
1. HANDS ON INTERNSHIPS: Internships tend to be engaging and hands-on. They are a great place to obtain practical experience in a medical setting. Midwest Institute includes clinical internships in the cirriculum. 
2. THE DEMAND FOR SURGICAL TECHNICIANS IS SKYROCKETING:  Employment in this field is expected to grow by 30% over the next 10 years accourding to the Bureau of Labor Statistics. This is 3 times the average growth projections of other occupations.
3. YOU CAN EARN, EARN , EARN: It is in all of the numbers! The median income for a young adult with a high school diploma is $22,900, while the hourly wage for surgical techs ranges from $14.64 to $29.47 according to the Bureau of Labor Statistics. Acquiring more education and experience will assist you with moving toward the top of that range. 
4. YOU LIKE DIFFERENT: With a career as a Surgical Technician you never have to worry about monotony. You will interact with people on a dialy basis, move around and work with a variety of surgeons and nurses in a team setting
…….. Read More from the Bureau of Labor Statistics ……..
Interested in enrolling in a surgical technology program at Midwest Institute? Feel free to contact us for more information.