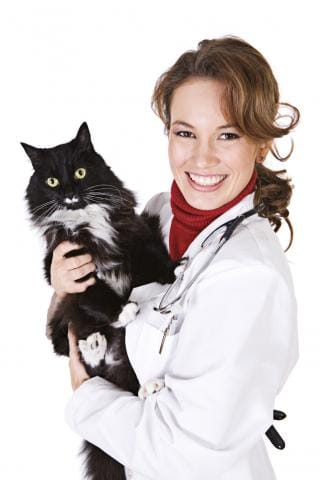 In order to provide superior animal care, veterinarians rely on the skills of technicians. As such, many technicians work in private clinics, animal hospitals, and veterinary testing laboratories. They conduct a variety of clinical and laboratory procedures, including postoperative care, dental care, and specialized nursing care. Technicians who work in research-related jobs do similar work. For example, they are responsible for making sure that animals are handled carefully and humanely. They commonly help veterinarians or scientists on research projects in areas such as biomedical research, disaster preparedness, and food safety. Technicians most often work with small-animal practitioners who care for cats and dogs, but they also may do a variety of tasks involving mice, rats, sheep, pigs, cattle, and birds.
Technicians can specialize in a particular discipline. Specialties include dental technology, anesthesia, emergency and critical care, and zoological medicine.
Veterinary Technicians usually have a 2-year associate's degree in a veterinary technology program. They generally work in private clinical practices under the guidance of a licensed veterinarian. Technicians may perform laboratory tests, such as a urinalysis, and help veterinarians conduct a variety of other diagnostic tests. Although some of their work is done in a laboratory setting, many technicians also talk with animal owners. For example, they explain a pet's condition or how to administer medication prescribed by a veterinarian.
Veterinary Technicians typically do the following:
Observe the behavior and condition of animals
Provide nursing care or emergency first aid to recovering or injured animals
Administer anesthesia to animals and monitor their responses
Collect laboratory samples, such as blood, urine, or tissue, for testing
Perform laboratory tests, such as urinalyses and blood counts
Take and develop x rays
Prepare animals and instruments for surgery
Administer medications, vaccines, and treatments prescribed by a veterinarian
Collect and record patients' case histories
Work Environment:
Veterinary technologists and technicians typically work in private clinics, laboratories, and animal hospitals. They may also work in boarding kennels, animal shelters, rescue leagues, and zoos. Their jobs may be physically or emotionally demanding. For example, they may witness abused animals or may need to help euthanize sick, injured, or unwanted animals.
Important Qualities
Communication skills. Veterinary technologists and technicians spend a substantial amount of their time communicating with supervisors, animal owners, and other staff. In addition, a growing number of technicians counsel pet owners on animal behavior and nutrition.
Compassion. Veterinary technologists and technicians must treat animals with kindness and must be sensitive when dealing with the owners of sick pets.
Detail oriented. Veterinary technologists and technicians must pay attention to details and be precise when recording information, performing diagnostic tests, and administering medication.
Manual dexterity. Veterinary technologists and technicians must handle animals, medical instruments, and laboratory equipment with care. They also do intricate tasks, such as dental work, giving anesthesia, and taking x rays, which require a steady hand.
Problem-solving skills. Veterinary technologists and technicians need strong problem-solving skills in order to identify injuries and illnesses and offer the appropriate treatment.
Employment Outlook:
Employment of veterinary technologists and technicians is projected to grow 30 percent from 2012 to 2022, much faster than the average for all occupations. Because veterinarians perform specialized tasks, clinics and animal hospitals are increasingly using veterinary technologists and technicians to provide more general care and perform more laboratory work. Furthermore, veterinarians will continue to prefer higher skilled veterinary technologists and technicians over veterinary assistants for more complex work. There will also be demand for veterinary technicians in areas such as public health, food and animal safety, national disease control, and biomedical research on human health problems.
Classes are Forming Now!
If you are interested in enrolling click the link below and get started today!
Statistics, B. o. (2014, January 8). Veterinary Technologists and Technicians. Retrieved from Bureau of Labor Statistics: www.bls.gov/ooh/healthcare/veterinary-technologists-and-technicians.htm#tab-1